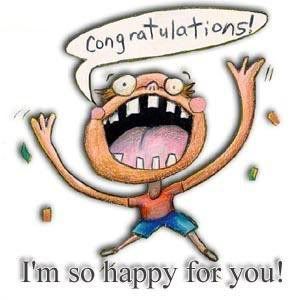 Congratulations go out to Vernon McMahon and his new bride Mrs. Elly McMahon. The word around town is that the ultra private nuptials were as beautiful and tear-filled as any uber-swank public wedding found here in The Peak or her surrounding areas.

The bride was radiant, beaming with happiness, the groom puff chest proud and the readymade family …well, color them surprised.

May the newly-mated find years of love, laughter and the down and dirty ahead of them. May they also make their broad a little bit bigger!
Ziva sat back in her chair, grinning at the thought of Nick with a new baby big-horned sheep sibling strapped to his back as he worked. Sure, it was unlikely to happen considering Vernon and Elly's ages, but being that shifters were hella-fertile…hey, who knew. She should probably take that last part out of today's post, but Nick would go ballistic when he read it and a wound up Nick was always a delicious sight.
"What are you giggling about, beautiful girl?"
"Hey Penelope, come on in." Ziva pointed to the computer screen, not minding if the gorgeous Mistress read over her shoulder. "I was just thinking what a sight Nick would make playing big brother to a baby…even better if the baby was a big-horned sheep."
Of course now that she started to really think about Nick with a child, a tiny cub flopped haphazardly across his wide bare chest, a warm energy blasted through her. Over the last few weeks her thoughts had become shockingly maternal.
"Oh Z, Nick would flip his fig leaf to see that in writing…you've got to leave it in. Plus, when Mary gets a load of a public congrats like that in Nick's paper she'll be gunning for him."
Ziva shot a discouraging look Penelope's way as she deleted the last sentence.
"Ah Z, come on, we need a little action here in the newsroom. Everything's gotten to quiet and sedate. That's not good in this town…we can't have the residents holding things in, can you imagine the chaos if and when they all broke at once? Do it for the safety of the town."
"What about the safety of my man? I like Nick all in one well wrapped package, thank you very much. If Mary laid horns into him, it might be weeks…months before I'd get him back in working order. Nope, sorry, no can do."
Especially if this warm mushy feeling was a tell-tale sign of a coming heat. She needed Nick in fine form and his swimmers ready to go.
"Well fine then, how about a different tidbit I heard about Nick and that night?" Penelope leaned down and whispered seductively into her ear. "So, what do you think?"
"That I can work with, and it won't get my wolf hurt, just riled up." Ziva laughed as she added the new dirt to the congratulations…
The bride was radiant, beaming with happiness, the groom puff chest proud and the readymade family…well, color them surprised and soundly inebriated. Our fine editor ponied up a hefty amount of dolla dolla bills, ya'll, for the groups consumption. He was later spotted in the dark of night walking arm and arm down the streets of Talbot's Peak with his new brethren both singing and signing—We are Family… Tell us editor McMahon, did you have your sisters with thee. Hahahahaha

Over and outie,

From your friendly neighborhood Juicy
~~~
Here's to hoping all the gossip you hear this weekend is Juicy good and about someone else! ~wink~
Serena