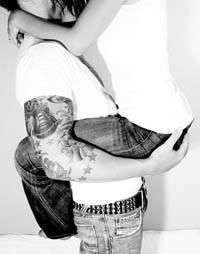 Hey everyone, can you believe were are officially on the last day of 2010? Where does the time go?
We've had a great time here at Shapeshifter Seduction last year and expect 2011 to be an even bigger bang. Thanks to all of our readers for stopping by and checking out our sometimes serious, sometimes silly flights of fancy.
Have a safe and happy new year!
~~~
Burgess absorbed the slight weight of the fragile beauty now wound around him. His hands cupped her perfectly rounded ass even as she wrapped her legs around his hips. Her dress inched higher on her thighs, but thankfully, still covered her interesting bits. Her tongue delved deep, mated with his while her hands held tightly to his face. This mad grope in an airport terminal was as close to heaven as he'd gotten in far too long.
"Dear Gawd," her panting breaths were as feminine as she was, gentle puffs against his lips and chin as she spurred him with her periwinkle eyes. They were lined heavily in black and colored with a rainbow of colors that were reminiscent of the mighty parrot found in the tropical areas of his home. So what was this beauty doing here?
"Pru'dance, glad I caught you doll…" The look of horror in his rainbow woman's eyes at the ridiculously false accented man's voice made Burgess take notice. The instinct to hurt this man, now touching what he would love to consider his, was strong. "…just wanted to give you one last chance to enjoy the goods on yer old friend Tex here, before I mosey a piece."
"Move along, slick, before I move you along." Burgess suggested, with a voice of authority, while never taking his eyes off the woman in his arms. "This beautiful bird is all mine."
"Yer loss, darlin'." The idiot muttered before hurrying away.
"No, my gain I should think…" she whispered.
"What's your name beautiful?" He pulled her closer, refusing to lose the heat and lushness of her body against his.
"Prudence Penelope."
"A gorgeous name luv, but I think I should like to call you, Mistress."
And put myself in your tiny and perfect hands for the rest of the night.
"Ring in the new year with me, Mistress."
"Yes…" Her voice turned wispy as if nervous or unsure. By 2011, he would make sure her nervousness was gone. He'd allow himself a night of submissive abandon before taking on the Yakooza once more.