It's Friday!! The work week has come to an end...Yay! The week-end is just beginning...double Yay!! And it's my turn to blog...Woot!
So I thought I'd do a quick intro, ramble a bit and leave you with a short little tease...
Hi, I'm Serena. I like warm summer days, hot summer nights and sexy men that turn into animals, literally! Huh, that sounds suspiciously like a 70's pick-up line, next thing you know I'll be off on a tangent about Pina Colada's and some deep-seated need to get caught in the rain.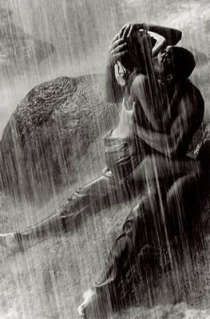 Now if I could get caught doing this in the rain with the hero of my story, well I say deluge!
What else can I tell you about me...
I write paranormal, erotic and contemporary stories. I don't take myself too seriously. And I'm super excited to mention that my book
The Challenge
, coming soon from Liquid Silver Books, is also a finalist in the Passionate Ink, Stroke of Midnight contest!

Well, there you have it, a really small amount of info about me...Check
yeah, erhm, a lot of rambling ~oops~ ...Check
And, Oh the tease...
Blurb:
Marina Jamison is a mystery. As a half-breed shapeshifter, she lives on the fringe of were-jaguar society. Though her love for pride leader Bastian LaRue is forbidden, she finds herself tied to him by a bond stronger than their individual wills, a psychic link born from their one-night stand. When her secret is revealed, she is scorned and excluded. Neither Bastian nor the pride can accept a half-breed queen.
Excerpt:
She was in trouble.
Something changed her two years ago. Their first night together had been out of control. He'd dominated her, spanked her, and brought her release after erotic release. Somewhere amidst the orgasms, she'd formed a connection. She could sense his emotions. Her body tingled with sensations that were not her own, but his. Impressions of ownership flowed into her, marking her as his, and in the end what had she done? Rather than running, as any sane woman over her head would, she'd reveled in the attention and begged for more.
Only when he'd fallen into a much-needed sleep had she hobbled away, sick with the knowledge that her one-night stand had gone drastically wrong. Two things became clear as she'd left the warmth and safety of his arms: one, a single night of sex with Bastian ruined her for any other man, human or shifter, and two, she'd become strangely attached to him.
Thankfully, the bike's rumbling pipes covered the sob slipping past the barrier of her lips. No doubt about it, she was in trouble.
Marina tightened her hold as the bike shot onto a familiar dirt drive leading to his cabin. Thighs wide, her bare flesh nestled the top of his ass and the vibration of the bike drove her arousal higher. How typical of her to be both afraid and aroused at the same time.
The tease...Check
Have a great week-end everyone!