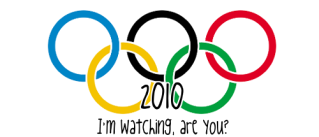 Olympic Fever, do you have it? I know I do. I sit enthralled in front of my tv watching the downhill skiers go balls to the wall(pardon my expression)down the side of the mountain, looking for the best time. Snowboarders gaining such heights and turning awesome tricks down the half pipe, figure skaters looking so graceful as they do amazing things with their bodies all on a pair of thin blades. I am in awe of the nerves each athlete must have to conquer injuries and fears in the quest to fulfill their dreams.
Kudos, bravo and may the gold be within your reach to each and every athlete...
So in honor of the Olympics, I thought it would be fun to do a Friday Five...
Five sports I'm sure must have shapeshifter secretly competing in... ;)
1. Snowboarding - It takes a heck of a lot of strength to get those boarders into the positions and heights. Jaguar for sure.
2. Figure Skating - This sport takes such agility, jumps, spins, balance...all on thin blades, yep shapeshifter are a definite here, perhaps a house cat?
3. Short Track Speed Skating - Coordination galore. Making those tight passes and at those speeds, I'm guessing wolf.
4. Downhill Skiing - Speed, Speed and more breakneck speed. Large cat of any variety here.
5. Cross-Country Skiing - Endurance a must. Up hills, down hills, twists and turns and all at a really fast pace. I have no doubt we were looking at some bear in this grouping. :)
What about you, Olympic watcher? If so, what's your favorite sport?
BTW...Women's skeleton, starts tonight! ;)