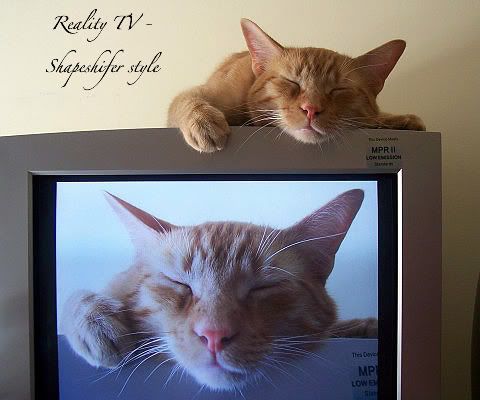 Good Friday morning!
So I've been thinking lately about the TV shows I've been watching. Most of my choices lean toward the paranormal/sci-fi (big surprise, lol), but I also found that I am currently watching two Reality TV shows. 8/
Reality shows have never been my favorite types of shows, but over the years I have watched a few...Survivor, Rockstar, The Amazing Race and now Undercover Boss (this one is for the hubby who really likes it.)
So I had an idea...Shape Shifter Reality TV. Could it work?
Well, let's see,
Undercover Shifter Boss - The leader of a pride/pack infiltrates the group to make sure everyone is happy. Um, this probably wouldn't work though, considering that leaders of the animal variety are usually known to the entire pack, or can be easily identified as such...
Rockstar: Shifter style - hmmm, do your shifters sing well? Moving on...
The Amazing Race - Shapeshifters pair up and race across the world. The tasks would be extreme(chasing of the prey, alpha stand-off and catch that scent) and if we really wanted to see some sparks fly, team shifters up randomly...think a jag and a wolf would work well together? Now this idea has some possibilities, although cooping our beasts up on an airplane for long hours might make for some interesting news...
Survivor - This one I think has the best shot at being a winner. Think of it, tribes are made up of each type of animal, coyote, jag, wolf, bear, horse, tiger...heck any thing you can think of and send them to an island together to outwit and outplay each other. LOL, just a thought here, if we make it during mating season, we'd have a whole new kinda reality show...one left best to cable. ;)
How about you, what reality TV would you change into a shifter reality show and would it work?
Have a great weekend!