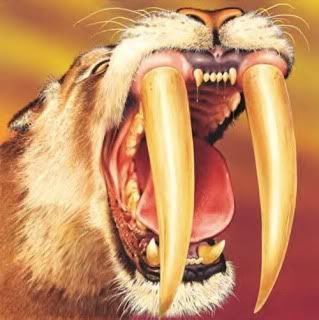 Steel Saber came down from the mount'n
And gazed at the really weird fount'n
It was a dog dish he was seeing
That's why he felt like peeing
His prowess he felt like a flout'n
Of this town he'd heard stories
About shifters in all their glory
Some were cats and some were dogs
Some turtles and assorted frogs
Yet they lacked those with heads so hoary
He liked the town's feel
The people seemed real
But he missed the age of his teens
A time when none preened
And the humans could be his next meal
Should he eat Barney or Fred
Or leave them just shy of dead
Then to slake his thirst
And show them his worst
When he took Betty and Wilma to bed
~~~
Wow, clearly I've been neglecting my poetry of late that this post would come out not just as a poem, but a really weird limerick!
Yeah, who am I trying to kid...weird or not, I love limericks. :D
How about ya'll, feel in the mood to share a little ditty about the Saber-toothed devil in the picture above? Give it a whirl and remember a limerick follows the standard (aabba) rhyme scheme.