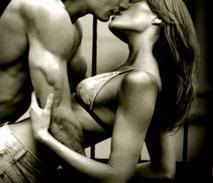 The other day I came across a blog about 7 Traits Of Irresistible Men. I liked much of what the author had to say and had to agree with her, if a man knows how to wink...yep, I'm pudding! Check it out here if you like:
http://shine.yahoo.com/channel/sex/7-traits-of-irresistible-men-491994/
So, in the intrest of just cause I wanted to and I felt like being silly, I decided to do one of my own.
"Shapeshifter Males: 7 Rreasons He's The Mate For You?"

Enjoy!

1. He's Got The Look.
You know the one. His dark lashes lower over eyes so expressive they stop you in your tracks. They promise you one thing and one thing only. The sex will be long, hard and completely necessary and you'll fall asleep in an utter state of completion. Yep, you know that look!

2. He Is The Definition Of Calm.

When the bad guy appears or the ex girlfriend is pounding at the door, even if the world itself was ending, he would be facing it head on, stoically and with a touch of bring it on his lips. He leads often, but knows when to follow and no matter how many times you lose your composure, he's always there to pick you up.

3. His Shoulders Are Wider Than His Waist And His IQ Is Higher Than His Shoe Size.
Now this one may seem a little self absorbing, but hear me out. When looking for the right shifter to help protect the den and to bless you with the strongest offspring, a female needs to be aware of such things. You need a strong male, but also a smart one. It wouldn't do to have your mate eat your young now would it.

4. He Sports Some Body Art.
Body art you say? Tats on his delicious bod? Heck yeah! For one thing they are uber sexy, but for another, if he can take the needle, he can take on whatever painful stuff is sent his way.

5. His Scent Will Make You Beg.
Its not about cologne with this shifter, no siree, for this male it is all nature and the way Mother Nature intended him to smell. Odds are his scent will be the first thing you notice about your man. It will probably be the thing that links you to him and no matter what the smell, he will have you on your knees, promising him the world.

6. He Is Affectionate.
Does he cuddle? Touch your face just to see you with more than his eyes? Will he hold your hand when you go places, even if it's only to the bedroom? How about telling you he loves you in all the little things he does. Yep, affection is a strong must.

7. He Laughs Loud, Hard, Often.
Our hero must also have a sense of humor. He must be able laugh, to play and to take himself only so seriously. Make us smile and his work is half done.

So what do you think? Is this a good list for our shapeshifting heroes? Can you add more? Show me your 8,9,10... What traits make a shapeshifter male the mate for you?

Have a great weekend!


pssst...before I go, I just wanted to share... The Challenge release date is this coming Mon, Aug 10th! Squeeeee Yep, excitement abounds at my house. ;) So here is just a snippet at to why Bastian is the shapeshifting male for Marina...


The sight of a stunning redhead on stage attached to the steel suspension bar stopped him dead in his tracks. With her head bowed, he couldn't see her face, but her incredible body and the vaguely human scent had his pulse racing. He knew her. Fear raced through him. Fuck, he knew her. Hope nearly buckled his knees. Please, please don't let me kill the son of a bitch touching my mate.

"T and A are good, Hoss, but seriously, I've got that right next to me here on the floor," another alpha bellowed. "I'm going to need a bit more enticement to give you my hard earned money."

"Bid high enough, Terrence, and maybe I'll have her treat you to a blow job. Sound good. Now who'll start the bidding?"

At Hoss' words, Bastian watched her head rise, disgust unmistakable as it skittered down their connection. His roar stopped the room cold. Every person in the place turned to look at him; many backed up and moved out of his way. Hoss, too stupid to be afraid, stood with a big dumb grin on his face. Bearing down on the man who was trying to auction off his mate, Bastian's forearm and hand rippled. Short black fur slid from his pores while muscle popped beneath the skin. His fingers fused together to become a paw. Razor sharp claws slid into place. He reached out and swiped Hoss across the chest. The impact sent him flying off the platform onto the bar floor.

"Never touch her again." The menace in Bastian's voice was clear. "She is off limits to you, to all of you."