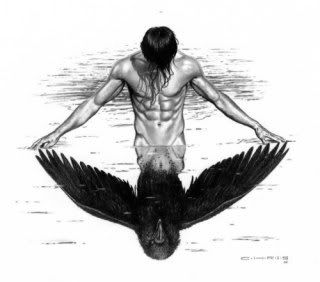 Sakina Pax perched in the rafters, wings close to her small pudgy body and wide black eyes bulging out from her pure white feathers.
She watched the volatile group below eyeing each other, just waiting for the chance to erupt in anger and violence.
Auras ran from dark, fearful blues to muddied, angry reds and mixed in was a smattering of unforgiving black.
The group was in fine form tonight.
There was a fight building; pent-up energy to be expressed and lusts gone unanswered.
Thus, she'd been drawn to the eye of the storm.
***
Ceallach Bran surveyed the room full of rowdy shapeshifters, terrified humans and two idiot jocks, one of which had purple paint behind his ear.
They were both trying to peddle some ridiculous t-shirt proclaiming "I survived the purple, people eater."
Man, it was good to be home.
Sure this was the first time he'd set foot in Talbot's Peak, MT, but this place had the vibe—one that called to both the warrior and the raven inside him.
"Wow, you're one big mofo," stupid human dude exclaimed, nodding his head like a deranged bobble-head doll.
"You wrassle, man?"
"No."
"Football?" The human continued to follow him across the bar while his gum-snapping date tagged along behind.
"No."
"You sure?
Cause I just know I've seen you somewhere before."
Ceallach reached deep inside to find the control he needed to leave this guy in one piece.
He'd have rather let loose his raven to pluck out the humans eyes, tear out his tongue rather than continue to listen to the questions.
"No, go away."
"Don't gotta be rude, man."
"Hey, hey…"
Gum smacker pushed her way around stupid human and tugged at Ceallach's shirt, right near the nipple.
"So, are you like big
everywhere
?"
With his temper simmering and the air in bar reaching critical mass, a fight was inevitable.
He only hoped he'd be having it with some big, burly shifter, who could give and take a little abuse, and not a stupid human and his slutty girlfriend.
"What the hell, Shels," the male's anger erupted as he squared off with his date. "You're supposed to be here with me, not coming on to some other dude!"
Ceallach eased away as the now wide-eyed woman tried to cover up her faux pa and salvage the rest of the night.
Fortunately for him, their screaming match was all it took to put the rest of the bar into motion.
He pegged the biggest guy in the room, who was currently beating down the smallest and took off after him.
One left hook and an uppercut to the jaw and the beast was down, his juices were flowing now…to hell with the MMA and their stupid marketing and promo.
This was the action he wanted, rough and ready, bare fisted and no freaking cameras.
Fifteen minutes later he was back to back with the bouncer, throwing the last of the fighters out the door.
The fight was over.
It had been fast and furious, but had succeeded in getting him noticed.
"Hell of a fighter, friend."
The wolf put out his fist, waiting for a bump back.
This was definitely the alpha of the joint so Ceallach knuckled up.
"Thanks, damn good yourself.
The names Ceallach Bran, and I'm looking for a job…"
A screech and flutter pulled his attention away from the wolf boss and directed it to the dove making a hurried escape from the bar.
"If you're looking for a job, man, you got one here.
Be back tomorrow night at six and we'll get you started."
"Dante, my man."
The wolf elbowed him in the shoulder then stood back.
"It'll be aces to have The Raven of Pain working the door man."
Ceallach winced just slightly at the use of his fighting name, but nodded his head.
"There'll be no shit on my shift, boss."
Dante gave him the 'there better fucking not be look' and walked away.
Ceallach made his way to the door, focused on finding his puff of white fluff.
"Sakina Pax, you little devil," he whispered into the wind.

"I'm home…"