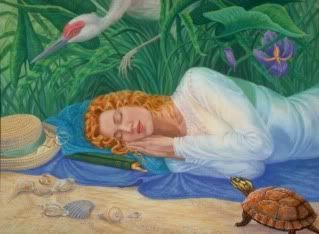 I am spent.
No, not from a lovely morning romp or a wild night of extra-curricular activities. I'm spent from a night of oddly exciting dreams.
Shapeshifting played a huge roll in these dreams it seems. I was a part of them, but only as an invisible observer following the actions of each of the characters. Female mates were being stolen and their macho men were in a fury to find them. Typical.
The exciting part...these were some ultra-fine, alpha males who reeeeeally did not take well to their women being taken from them and that is always hot. ;)
The odd part...I spent the entire dream telling everyone and no one, "Cool idea, but where's the plot?"
LOL... Not hard to tell where my brain is of late!
Have a great weekend!
~~~
Gypsy Wolf cont...
"…mean."
Branwen grimaced at the sugary sweet voice bellyaching on the other side of her tent's flap. Great, she was in for another long session of young girls giggling and peppering her with asinine questions about their ridiculous lives and their unrealistic loves. Will I become a supermodel? What are next week's lotto numbers, and her all time favorite question, will my current boyfriend find out about my other boyfriend?
Why couldn't they just once ask something with more depth? Will I make an important change in someone's life? Will I marry and have two point whatever kids, will I be happy?
She found their requests childish, disheartening and they hit far too close to home. She was once like these spoiled girls, more worried about how the world could serve her rather than how she could make the world a better place.
Sadly, it had taken one horrifying night to change that whiney beast into this hidden one.