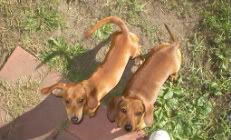 My puppies, Ike on the left and Russet on the right
So, as I sat searching for a topic for today's blog my Darling ~
home sick from school
~ Diva turned on the TV and proceeded to watch one of her favorite morning cartoons, Martha Speaks. General premise of the show: Martha's a dog and she...ta da, speaks. lol
It's actually quite a cute show and it got me thinking, what would animals say to me?
What would my mini doxies say?
"Hey, lady giant, stop writing about those dang cats and get us some chewies and stuffed toys!"
What about the cows we drove past on our vacation last month?
"Psst, lady, a mooment of your time, if you please. How would you like these tasty green beans and broccoli?"
How about the beautiful horse's I couldn't get my DD to go near?
"Hayng on boys, here comes the ooh aah lady again."
Or the sneaky snake from the woods?
"Sssstop ssscreaming and jumping around you crazy woman, your ssscaring me!"
How about you out there, if animals could speak...what would they say to you?