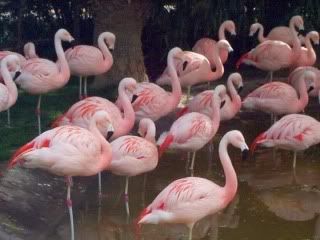 "Damn purse...freaking keys...bloody,
life
." Talullah gripped the newly purchased, now torn, purse and fought to pull her apartment keys from the lining they'd fallen into. More fabric tore until the insides were on the outside and the open roll of quarters fell to the ground, scattering to the four winds.
"Why am I still in this town," She grumbled, squatting down to retrieve whatever coins didn't end up in the garbage cans or cracks around the steps of her apartment building. One by one she plucked the money off the cement and deposited it into her pocket. Of course, she was fifty cents short of the price of a load.
So much for doing laundry.
Talullah dropped her ass to the ground and stared longingly at the pond across the street. She would give a pretty penny to be floating on those calm, dark waters. She'd have to give someone else's money, though, as her tour leader job barely paid a livable wage. Certainly not enough to buy a simple air mattress to keep her head above water. The funny thing was she could never quite see her body when she envisioned being on the pond, but there were always a lot of ducks.
Great-Grams Daffy would get a real kick out of that thought, being as she knew almost everything there was to know about ducks. They had been her passion. She sure missed the old lady, but that wasn't surprising as she'd only died a few months back. Longevity and getting preggers at a young age ran in her family. Every twenty years the youngest woman in her family line ended up engaging in a wild night of revelry with an excessive number of men, ended up pregnant and never knew who the father was, but she was putting a stop to it. She'd just turned twenty-two and she was proud to say, she was still a virgin.
"I will break this curse..." Even as she spoke the words she had a bad feeling fate was about to spit in her eye. When she considered her day so far with the dullness of her tour - no bighorn sheep on the backs of bikes, no one getting lost at The Last Bite and not even a unicorn sighting, then she shouldn't be so surprised to see a moving van and two SUV's pull into the parking lot. It shouldn't be a shock to see eight leggy men get out of the vehicles, nor should she feel so damn aroused at the thought of all that testosterone moving into her building. She really shouldn't keep ogling the beefcake hefting furniture and boxes like they were footballs and baseballs, but she couldn't stop.
Talullah watched as all of her hard work swirled down the drain, it appeared that her downfall was going to be eight gorgeous men with pepto-pink hair. She could imagine every one of them, with her, down at the pond - each standing on one leg while she floated away her frustrations.
"Well, Hell," she mumbled, already prinking in the back of her mind. "Fate and Talbot's Peak, strike again."
~~~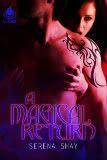 Shameless plug coming up!
I have a release date for my upcoming novella,
A Magical Return
! June 20th my baby will be available at Liquid Silver Books and I have to tell you, I'm positively giddy! :)
Have a great weekend!