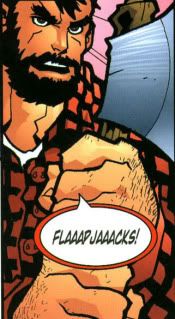 Nuts and Grains, Fruits and Veggies
I know you think they're keen,
But damn it, woman
We do still need our protein!
I've tried to be patient
I've tried to be calm,
But you're stealing my customers
With your mashed heart of palm!
I know, I know
I can get it from beans,
But it's just not the same
Hell, I'll even take it lean!
I think you should try it
All kissed to perfection,
Trust me
It'll pass your inspection!
I can hear you now
"Try the tofu,"
I'm here to tell you
That's nothing but goo!
A wolf needs his meat
Be it leg, butt or back,
Yes, I'll be over later
For more of the jack!
(Can I have them with blueberries and smothered in syrup?)
Grrrr!
Vernon
Elly folded the missive meant only for her and tucked it inside her apron. What would she do with the snarly wolf, from across the way, who insisted on secretly eating plate after plate of her flapjacks and leaving private poems that brought a smile to her face…