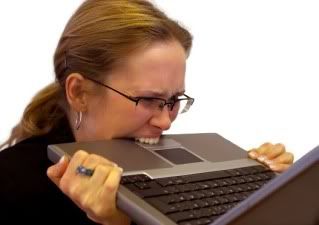 "Purple Fairy Streaks Through Town Square"

Now wouldn't that be a bitch'n title for the article you can write on the photos we got of a purple fairy running around in Talbot's Peak?
Ziva clicked over, once again, to the grainy, unfocused picture attached to this ridiculous email.

The shot appeared to be a naked male, painted purple, and sporting wings that looked to be from a little girls Halloween costume.

She wondered for the hundredth or so time if this was from someone in the office, fucking around with her.

But what would be the point of that?

No male, alpha, beta or other, from Talbot's Peak would be caught with purple nuts and glittery wings, flitting around town just to get their name on the website.
This had to be a human.

Ziva read on, hoping for a clue as to who it might be…
This photo is not of the best quality, but the others I procured are way better. Should you decide to run this story on your website under the section

'Did I really see that?—Local sightings in Talbot's Peak.'

I can forward you nine other shots to use that show a copious depth.
Was this kid stoned?

And obviously it was a kid if he used words like 'bitch'n' then mixed it with 'procured' and 'a copious depth.'

Did he really think she would make a serious story out of what she was guessing was a stupid antic, colored purple and paraded through town—a town filled with shifters who would make "that which went bump in the night" seem tame?
I will require compensation for my photos, but also, I will be retaining the rights to them as well.
Ah yes, here it comes…I want money.

Clearly, the sender of this request was not someone in the office, but a prankster looking to score some cash.
I look forward to hearing back from you, Cordially, TQB1Clicker
Ziva sat back and stared at the crappy picture yet already putting together the story in her head.

She marveled at the audacity of this TQB1 character while at the same time tried to imagine what the other pictures he had looked like.

Would it be worth her time to try to squeeze a dime out of Nick, or would the story fall flat?
There was no way to know what Nick would be willing to pony up unless she asked.

She was just damn grateful she'd put him in such a good mood the night before.

Here's to hoping last night's loving produced a lasting effect, or that his assistant could answer the question.
"Hey Penelope," Ziva listened to the bird's outrageous request and knew that anyone currently eavesdropping on the line would by now have their zipper down and their dick at the ready.

Penny was such a character, but it was one of her best traits.

"Yes, Ma'am.

I'm all for it, but I don't know if you could get Nick to play…"
Several suggestions later, all of which some variation of the same wooden ruler theme, and Ziva was laughing so hard she was starting to draw attention to herself.

"Stop…I give.

You're right, any of those would work to get him to climb on board, just please let me be there when you mention them to him.

But seriously, can I ask you a question?"
Ziva quieted, nodding her head and rolling her eyes she tried again…
"Sorry, may I ask you a question?

Thanks.

Do you know if Nick has money in the budget for buying news-worthy photos from a secret source?"
Her eyes rose.

"That much?

What does he figure is going to come his way?

Wait, no, don't answer that.

When it comes to Nick, I can already picture it.

Thanks Pennnnn-elope."
She'd almost called her Penny.

That slip of the tongue could get her a series of lashes, but it might be worth it.
Ziva turned back to the computer and clicked reply to the incoming email…
I am interested in the other pictures you have obtained of the Nude Purple Fairy, but my terms require that you choose one or the other—money for the pictures or retaining the rights. Should you choose the money, I can offer you five dollars apiece or fifty dollars for the lot.
After sending the email, Ziva turned her mind to the short article that would go with the pictures she was sure would be forthcoming.
Fifty dollars is a paltry sum and not nearly enough to make me part with this treasure.

It sounds as though we will not be able to make a deal, therefore, I shall keep my photos and take them in a different direction.

Sorry we could not do business.

You have missed out on the real deal.
Ziva growled at the pranksters response to her offer then picked up the phone.

"Sparks, my man, I need a physical address from an email addy…you up to the challenge, hacker?
The creative way he strung together so many foul words, brought a smile to her face.

She'd get those pictures one way or another.