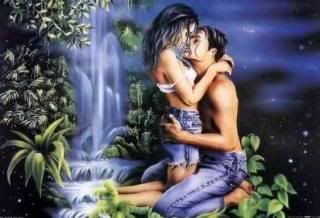 Such fabulous posts this week! Nice job ladies. Now, I'm happily following in the footsteps of my awesome blog mates and posting a very raw section from an unfinished work about werewolves. It was meant to be a New Years story and who knows, maybe someday it will be. :) As for the picture...well, I just really liked it. :D
~~~
"Josh, wait…" Ela bellowed at the back of her so-called best friend's disappearing head. Bellow was probably a misnomer considering the soft, gentle voice she'd inherited from her southern belle, mama. More like tinkled or trilled as she'd heard others say over the years, two words she despised. Who wanted a tinkling voice anyway? She wanted to be heard, especially now, not drowned out by the roar of the throng ducking and weaving around her.
"New Year's Eve in Times Square, Ela." She groused under her breath, mimicking her friend as she fought her way upstream through the horde of revelers. What an idiot she'd been to allow Josh to convince her, this was a must not miss for a true New Yorker. What a load of horse crap that was, hell, the true New Yorkers were probably partying in the apartments surrounding the square. They'd have good eats, awesome drinks and warm, clean bathrooms to use without waiting for a good hour to get into one.
"'Scuse me, 'scuse me, sorry…" Shit, the press of flesh was getting to her as she tried to squeeze herself around person after person.
"Watch it, would ya babe…"
"…ugh, sorry, 'scuse me." An elbow to the gut was better than one to the face she figured, but there was no way she could keep up with Josh. As it was, she could barely see his blond head in the darkening night around her. What, did the crowd part just because he walked a straight and true path?
Ela longed to just stop. To plant her feet on the sidewalk and create a bubble of protection around herself, keeping the partiers from even touching her, but this was real life and in real life one did not have protection bubbles. What you did have were friends who left you high and dry in new and scary situations, bosses who thought your ass was their own personal stress relief ball to be squeezed whenever they saw fit and no family to return to when your dreams turn to nightmares.
At least, that was her life.
"Umph." Another blow to her shoulder from the front and a shove to her back tipped Ela toward the cement stoop on the nearest building. Her head collided with the decorative cap stone. Stars flashed before her eyes as warm liquid slid down her temple.
"Are you okay, Miss?"
The gorgeous creature looking down at her had a voice like smooth amaretto and a touch so gentle, what lingering pain seem to flee. How unfair fate was to grace some people with more and others, like herself, with so much less.
"There now, just a scrape. See…"
A tissue appeared in the stranger's hand, barely tinged red. Ela wondered, weren't head wounds suppose to bleed a lot? Or, maybe that was the top of the head and not the forehead, but should it matter? The head was the head after all…
"Can you stand, Miss?"
She should speak here, say something to the helpful stranger, but all she could do was consider head wounds and their leakage factor. Confusion, there was something she should know about that. Head wounds bled, but confusion meant less blood? No, that didn't seem right…
"Miss, are you okay to stand? We really should get you up to see the ball drop. There's only five minutes or so before the big event."
Ball…New York…New Year's… She was here with someone. Someone who'd gotten lost, no, that wasn't right. "I-I need to find my friend."
"I'm sure your friend is here somewhere, Miss, but wouldn't you rather see the ball drop from the best place in the city?" The stranger's eyes shone with a warm brown glow that pulled her in, they couldn't possibly be human. "I promise, the fireworks display will be electrifying."
There were fireworks? Ela's thought as she drifted in a haze of pain.
~~~
Enjoy the fall colors everyone and have a wonderful weekend!
Serena