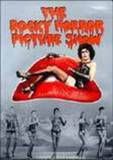 Woo Hoo! It's that time of year again! October, nearing Halloween...
Every year it seems as we near this spooky holiday called Halloween, the TV stations start running my favorite movie...The Rocky Horror Picture Show.
Yep, I'm a fan. I time warp, I bring rice to the midnight viewings, I know
I'm just a sweet transvestite
by heart and I can watch it over and over again.
I have not, however, dressed up to go to the show...yet! When I do, it will be as Magenta.
I just love her character, she is so like me right down to the frizzy red hair! LOL
Okay, so I'd need a bit of color, but I'm all there!
"We're all lucky, ah ha ha"
How about you, have you seen the show? Do you enjoy it and who would you go to the midnight viewing as...