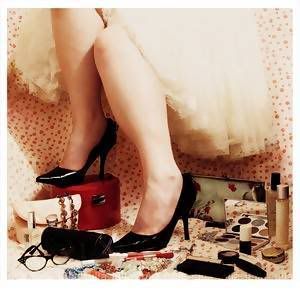 Happy Friday! So I thought to try something new this week and invite everyone out there to try along with me. On Monday's at my personal blog I like to do a Monday Muse. I grab a picture and allow my muse the freedom to write an opening to it. She loves it and it ~sometimes~ gets me ready for the week. So having nothing prepared this week for Shapeshifters I thought I'd give it a try.
Here's the rules:
~There are no rules, just suggestions~
Take a peek at the photo --> write the first thing your muse gives you be it a sentence, blurb or paragraph -->share it with us in the comments.
Bad writing is encouraged because honestly a writers first draft is usually a mess. In my case, it's generally crap. LOL Yes, I admit to bad writing...see that's why we edit, edit, edit.
So join in, have fun and let that muse off his/her leash...unless he/she does better restrained. ~wink~
Serena's Musing
~~~
Her mama was wrong - she had to be, and it was time for Sunset to find out for sure. Mama's fear of being outed as a long, long lived Saber-Toothed Tiger put a decided crimp in Sunset's love life, that was for sure. A hundred and fifty years confined to this shack and the surrounding woods was all she could stand.
She gussied up in a skirt filched some sixty years ago from a little miss learning the facts of life down by the pond. The tulle petticoats were old, but she'd cared for them meticulously over the years, waiting for the day she could show them off. The corset top was older yet, probably closer to a hundred or so years old. She'd nabbed it in the apple grove from a loud, brassy lady showing another quieter female her breasts. The shoes were newer, obtained up on what the sign called Rompers Ridge. The way Sunset figured, anything ejected from those noxious metal beasts during a lovers tryst was fair game.
Sunset climbed upon her table and pushed the window open. She would only be back if she could not find a mate during this next week. If she did return, it would be to raise her baby saber tooth alone, deep in the woods as it seem to be with her maternal line...
Have a wonderfully wicked weekend and keep your clothes close!
Serena