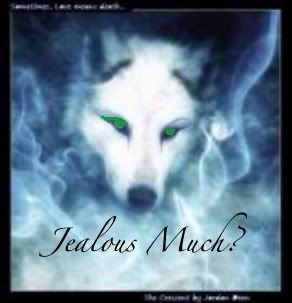 "Dirty, low down, rotten wolf boy!" As Ziva steamed, her pen hit the desk with increased force. "Firing his brother by text message, pimping out his workers and invites to the Hancock party—no doubt acquired by ill-gotten means." How had he scored those little bits of gold and who the hell was he planning on taking, not that she was interested or jealous. She wasn't!
"Miss Wilk."
Speak of the scruffy mutt. He strolled in here with his silly smirk, disheveled appearance and rock hard ass—damn him anyway. How could he always manage to trip her trigger, even when she knew she should hate him?
"Nicky," she sneered, calling him by the more effeminate name she knew he hated. Taggert Nicholas McMahon was the name his beautiful and generous mother had bestowed upon him at his whelping. In business, he preferred to use the stronger Nick, but she wondered if there was a time and place that he allowed someone to use the sexier Taggert or better yet, Tag?
"You know, Zeev," he said, oozing sex with every word as he leaned over her desk. "It's more professional to refer to me as Mr. McMahon or Sir…"
Dear Lupa she could get into so much trouble with this wicked wolf if she let her guard down even just a little bit. "So I guess scat head is out then?"
"Yes, definitely out…"
Was that a chuckle he'd tried to cover up with a cough? Had she somehow amused him?
"…I actually came in to thank you, Miss Wilk. Without your, what I'm sure was a desire to help me fit in, help; I would be dateless at the Hancock affair…
Oh hell, her stomach dropped and the pen slid from her sweaty hand, was he really telling her about having a date?
"…The calls from your personal ad have been quite intriguing, but this morning's was just downright naughty. So thank you, Ziva,"
If only she could wipe that smirk off his handsome face.
"Roxann sounds quite delicious."
Zeva sat back and let out a shaky breath as he took himself from the room. Game, set and yes, he'd just pulled the match right out from under her.