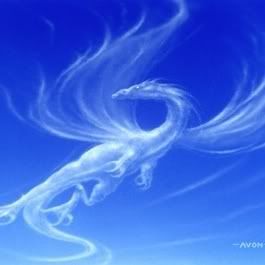 "No, Fair One, this will not do."
"Yeah, Gree, though I loath to, I've got to agree with the horned slime one here…this is a bad idea."
Greely looked at her traveling companions and once more wished she could produce smoke from her nostrils and breathe a bit of fire over their asses. "And how exactly would you both explain a
dragon
," she whispered behind her hand, "landing right on the strip?"
"So we land further out of town and call a taxi to come pick us all up, Gree."
"Yes, hump back, that would be acceptable."
"Hump what!? You did not just call me that, Slimy. No you did not!"
"Oh for the love of… Erol, Karma, shut-up! We are going to have fun on this trip, not call each other names and snark. Now, both of you march your asses into that airport and suck. It. Up!"
Greely grabbed her suitcase, pulled out the handle and wheeled it towards the entrance. She'd had enough of the two of them and their bickering and this trip had just started. All they'd done so far was make it to Billings and were going to catch a flight to Vegas. If, of course, she could get her dragon lover on to the plane.
"Oh shit." Greely stopped, a cold sweat flashing over her skin.
"Now she's thinking this through." Her best friend chuffed, before sitting down on her suitcase.
What had she been thinking? A dragon on a plane?
"What fools presume to carry me to this place of sin in a long metal tube? What could they know of lift and drag? How will they skirt the turbulent skies with immovable wings? I shall discuss their so called qualifications with these so called Air Jockey's."
OMG, he would to…try to confront the pilot's that is. Then they would find themselves confronting air marshals, the FAA and the whole of the US government. They'd be put on do not fly lists and would be considered terrorists. She didn't want to be at odds with the government. Sure she didn't always agree with them, but this country was her home and she loved Talbot's Peak and never wanted to be forced away.
"Hump Back, where do these monkeys sit to fly their plane?"
"Damn Slimy, that nickname is getting old. They sit in the cockpit ~don't you just love that word~ in front of the plane. There's a little door separating them from us, but it's always locked."
"I am Dragon! Locks mean nothing."
Oh God
. "Okay wait…" Greely turned back to look at her love and her smirking friend. "Perhaps you both are correct and it would be best to fly dragon air into Vegas."
"Now you're talking, Gree." Karma rose from her suitcase and adjusted her clothes. "Let's get this party started, shall we?"
"Dragon Air, Fair One?" The look he gave her would have drenched her panties if she'd been wearing any.
"Let's just go, okay?"
Erol nodded to her and took up the lead heading out of the airport. Greely walked and watched as his sexy backside rolled beneath his jeans. Damn, she couldn't wait to get to the hotel.
"Roll your tongue back in, Gree, or you'll catch some flies. Unless, of course, that was your plan."
"Shut it, Karma. And don't think I don't know this con has your camel stink all over it. Did you really want to ride a dragon this bad?"
"Hell yes! Who doesn't want a reptile between her legs every once and a while?"
Greely rolled her eyes and laughed. "Put it back in your pants, camel, or I'll be forced to push you off over Reno…and don't think I won't do it. That jumbo is mine."
~~~
First stop...Vegas, baby! I wonder what kind of trouble our trio can find in Sin City?
Have a fabulous weekend!
Serena