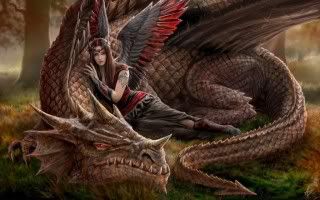 "Oh luv," the dragon crooned in his baritone voice.
"Shit." She'd been as quiet as she could so as not to awaken the beast from its rest. She'd used her power to ride the wind to keep from hearing her approach, but she hadn't counted on him raising his head and sniffing the air, searching for her with his enormous nostrils.
"No, nothing as vulgar as excrement. You are diamonds and feminine allure with a hint of brimstone, a hellishly divine scent if I do say so myself."
The swishing sound grew closer to her, tucked in, hiding spot between two massive boulders. How large was he? Could he reach her? With her surprise attack gone, she needed another plan. One that would get her a scale, but keep her from being torched into a roasty, toasty, 5'7" marshmallow blob.
"I-I've come to make you a deal." Perhaps she could trick him into giving her a part of himself.
"Have you now."
His voice was so close she could feel the heat of his breath surround her. Funny, the sensation was not the pain she was expecting, but rather an arousal. A full body orgasm just waiting to happen.
"Y-yes."
"Tell me; besides your body catering to my every whim and desire, what could a demon possibly have to offer me?"