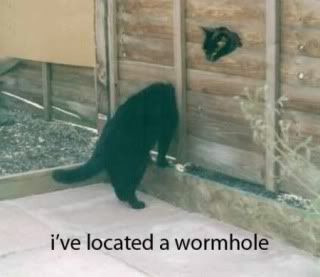 Lately, while I've had an overflow of story ideas and snippets, my blogging ideas have gone south. So as I cruised the internet, looking for inspiration, I came across this site
http://community.livejournal.com/thefridayfive/
and it's filled with Five Friday questions. Paging through the list of questions, there were many that were interesting and funny, but none as unique as the five below...
Talk about your creative, story inspiring questions. How would you answer some of these babies?
1) You are on your way to work, when suddenly a wormhole to the far side of the galaxy opens in the middle of the road. You are thus the first to meet the alien being that emerges. Despite your protestations, you are now Earth's unofficial First Contact ambassador. What will you say to the visitor?
2) A wandering trading caravan emerges from the wormhole. They plan to stay on Earth for a few weeks, and then will move on to the next planet and the next. Whatever you said must have really impressed them, because they offer to let you and a few other humans come along with them. The only catch is that the caravan probably won't be back to Earth. Would you go? Why or why not?
3) Suppose you decided to go. The master of the caravan will allow you to bring along whatever trinkets and baubles you think will sell on alien worlds, and will also allow you to bring exactly five other items that you may always keep. Clearly, he does not mean practical items like shoes or a toothbrush. What would you bring?
4) Suppose you decided to stay home after all. The caravan master offers you a parting gift. You may choose among super-brain pills, a flying car, a robot butler, or an invisibility belt. Which would you choose and why?
5) Suppose you ended up taking the super-brain pills. You now have a head the size, shape, and color of a watermelon. But you also now have the most fantastic mind the world has ever seen. What would be the first task you set it to?
~What would I say to the visitor? "Okay dude tell me, shapeshifters...myth or reality in your world?"
~What parting gift would I choose? Simple. An invisibility belt, of course...wouldn't that be a kick in the pants! LOL
Have a fabulous weekend!