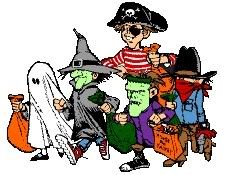 Good Friday Morning, my shapeshifter loving friends!
So, true story...
Last night, as I sat with my Darling Diva at a PTA sponsored Book Bingo, dinner(cheap pizza and a cookie) and pick up your fundraiser(of which one of the few things I bought is missing)...can you tell what kind of week it's been, I got to looking around the room at all of the little cuties costumes.
There were ninjas and witches, Princesses and Power Rangers, sports and rockstars...there was even a kid dressed as the grumpy old dude in the movie UP. Very cute. What was missing though were the animals.
Now as a kid, I would sometimes dress up as the famed black cat. Ah, how I loved that costume. In my own head, I was a shapeshifter, of course. Sometimes cat and sometime a sneaky(as cats are, you know) vixen.
But last night...No black cats!
Can you believe it! What happened to the animal/shapeshifter costumes out there? Do they not make them? Do kids prefer the store bought rather than making their own? Am I the only one who considered dressing up as an animal more like being a shapeshifter for Halloween(quite possible)
I did however see two animal costumes. Well two and a half, really. One was a sweet little white lamb and the other two...wait for it, A Queen bee and her cutie baby bee!! Oh she was so cute in her matching her mama costume! It surely would have won the best costume contest, if they'd had one.
Alas, that was it for animal/shapeshifter costumes, but I still have Halloween night to check out the goods...how many will I see on Sunday night as Darling Diva and I pass out candy? Trust me, I will be counting...and those with animal costumes might just get an extra piece of candy from me! muahahaha
~~~~~~~
Don't forget everyone...Ashlyn Chase is blogging here on Sun! Come see what she has to share about Book Recommendations from a Real life witch!