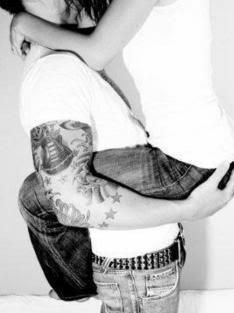 Nick stood sentinel over his mate, now resting as comfortably as she could in her wolf form. She'd come to, briefly, while flying toward help in Erol's massive, clawed grip. He owed that dragon much and would somehow repay him. Ziva and the pups were his world as he was theirs.
"How's our patient?"
"Hey Leo," Nick addressed the town vet, lightly, of course, so as not to wake the sleeping wolf. "She seems to be a bit more relaxed. Shifting definitely helped."
"Yeah, it usually does and the cocktail of meds I gave her will give her the chance to sleep a lot of the healing off. She is going to be incredibly sore for the next week or so and with how deep her scrapes went, she'll scab, but shouldn't scar."
"Thanks man. And thanks for the use of the kilt." Nick glanced down at the surprising comfortable attire Leo had loaned him. "Hell of a lot of freedom in this bad boy."
"I know and the ladies love them."
"That's what I hear," Nick laughed. "Ziva's always threatening me with one, I should have let her win that battle. I'll get it cleaned and back to you…"
"Forget it, why don't you keep it and surprise your lady with it, she's going to need something to keep the grumps away until she's fully healed. Besides, I have a bunch of them. Gotta go."
"Thanks again, Leo."
Nick smiled to himself, he'd definitely surprise Ziva with his newest attire, maybe on Halloween. He could be a sword wielding Highlander and for his lady love, a lovely, white silk, flowing dress. It would work well with her bandages and she could be a beautiful ghost…or a lady in white. He'd check out the new costume store in the Peak. Word was, they did custom work and that was just what she needed…a lot of pampering.
##
Erol flew back, as quickly as he could, to where he'd left his fully dressed, Fair One. She'd better have remained dressed or there would be hell to pay. His mouth watered with the idea of a bit of toasted wolf. He's leave the young ones alone as he knew eating them would piss off his mate, but the other two were fair game.
As he drew closer to the ridge, he could see a soft white skin dancing on the rocks. Not a seductive dance as most women would put on for their man, but for Greely, it was more like the robot mixed with a boot scoot and boogie as she'd called it the other day. His woman could not dance, but for him it was the most seductive thing on the planet.
As long as the wolves were nowhere to be seen.
Erol landed in a shift and didn't even bother to clothe himself. He let his sense scan the area and found it was just he and Greely—a very naked Greely. It didn't get much better than this.
"Is this you being naughty?" he asked, even as he grabbed her by the ass and lifted her to him.
"No, think of it as your reward for doing something good," she crooned into his ear. "Unless you think I'm being naughty."
"Definitely naughty, Fair One. I think you need a spanking."
"Don't let me stop you," she sighed into his ear. "YIEEIEE," then yelped as his hand came down on her plush cheek in the first of what would be many orgasm inducing pats.
~~~
Have a wonderful weekend!
Serena