How does one Shapeshifter/Were-Animal know if the other is their true mate?
Is there an explosion in the sky-on the third Sunday of the month after the first meeting? Do bells ring? Lights flicker? Do you grow an unexpected appendage out of an unexpected body part?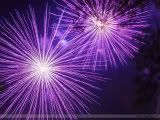 LOL...Probably not.
But the idea of how my jaguars would know they'd met their mate troubled me when I started writing
The Challenge
. I've read so many cool that's my mate stories -- Kenyon's shifters develop a temporary brand on their palm, Feehan's Carpathians males can finally see in color(cool) and Ward's brothers put out an awesome scent.
~sigh~
Could I be that creative with my characters?

Turns out my idea was ~IMO~ creative in a "swim little guys" kinda way. It just took writing, editing, writing, editing and the honesty of a heck of a CP to clarify my thinking. I'm very glad I went with it.
So how about it, which authors do you think rock the "how do you know your a mate" question in their stories?
Have a great week-end!