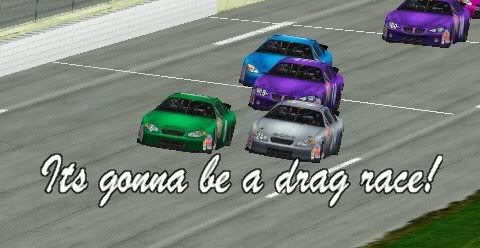 Serena eased into the
1966 Ford Mustang Convertibles
low seat and pulled her long flowing hair into a ponytail so tight she was sure it could be deemed a new type of face lift - not that she'd mind shedding a few of the past years. She turned the car over and felt the rumble of the beast pulling at the reins. She was determined to win this race and gather up her awesome new win, a copy of
Writing Romance—The Ultimate Guide on Craft, Creation and Industry Connections.
She'd take home the studly shapeshifting alpha holding the take off flag as well. It never hurt to have a reading buddy!
As she looked down the line, first up was Crystal in her
1960 Corvette Convertible
. It was a thing of beauty, sleek and small, ready to shoot off the line and try for the lead, but the big gorgeous Vamp and the stone hard Guardian in the back were going to weigh it down. If she got the wheels to spin, it would be all over but for the crying. Good thing she had two broad shoulders to do it on.
Next up was Paris in her
Silver Rolls Royce
. The car was a definitely a sweet ride, and the mechanic that tagged along was clearly a smart idea as he tinkered under the engine. Paris was bound to have quite the time during the race with that hard body in the back with her, but Serena doubted the chauffeur had what it took to win a drag race.
On her other side sat Savanna in her
Shiny Red Stealth
. Yeah, the lady Kougar had wings and she was definitely going to fly. The cars racing body screamed winner, but the large lovely cat in the seat next to Savanna could make it hard to drive. Serena had her work cut out for her there, but she had faith that her drag racing skills.
Last up, Francesca in her
Koenigsegg CCX
. Holy Moly, how fast would that gorgeous work of art go? Zero to Zoom was Serena's best guess, but she was keeping the faith in her wild pony. That and word on the street was Francesca might have had a bit of a run in with the law lately, which if asked about sweetly, maybe she would share that "secret life" with us one of these Monday's. Perhaps, Serena would whip out the hidden siren she had with her - you know for a little bit o' driving fun and scare Francesca off the course...well she could hope anyway. ;)
As the Dream Cars reved and the sexy alpha shifter raised the flag, a sight most enjoyable to all around, they were ready for anything. Going for broke. The flag fell and the five sexy bloggers were off. Neck and neck they flew, each working it to the best of their ability. The finish line was in sight,
Just. A. Little. Further....
Happy Friday everyone! I thought this might be a fun way of sharing more of our secrets....but you tell me, just for giggles, who do you think won that race?