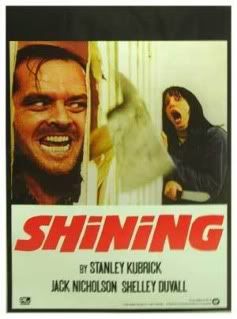 So I thought today being Friday, I'd have a little fun and share the top five scariest movies I've seen. And yes, I was a bit stumped for a topic this week, but this will be fun too!
Here we go...
1.
The Shining
- Seriously, my man Jack, possessed or did he just go stark raving coo coo, talking to ghosts in that big lonely old hotel and terrorizing his wife and child with an axe...chasing ~shudder~ them. Ick and dang scare me some more!! Let us not forget that he was also a struggling writer! I too have my days like that, but Heeeerrree's Serena! just doesn't have the same ring to it!
2.
The Exorcist
- Devil possession, painful crucifix action and head twisting split pea spewage did me in. This was of course after about the fifth attempt at watching it. I made it through once and never looked back. There is something about possession flix that scare the holy bejeezus out of me.
3.
The Amityville Horror
- Now we have house possession. Glowing eyes in the windows and repeated risings at 3:15 in the morning. I still freak if I should happen to wake up and need to pee anywhere around that 3am mark! LOL I blame it all on my dad. An eight year old child has no business seeing this movie at the theater, even if mom couldn't use the free ticket!! ;)
4.
When A Stranger Calls
- I have to admit here that I never made it past the initial fright of the cops telling the babysitter that her crank caller was calling from inside the house. Eep, some sicko killer is in the house with you calling from a different phone, while you are there babysitting someone else's children. Oh man, covering my eyes and ears here! This was another movie I was probably to young to watch. :) I do however remember getting several crank calls back then and it always brings this movie back!
5.
Salem's Lot
- This movie both horrified and turned my young self on. It was my first Vampire experience and the I want to suck your blood, alpha, I'll kill you if you get between me and my woman thing erm, yeah - I have a hard time seeing vamps as bad guys. ;)
There ya have it, my top five scary movies. What do you think? Did these scare you? Intrigue you?
What movies top your scare-o-meter?
Have a great Labor Day Weekend!