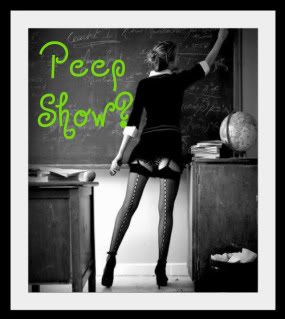 "This is all Cami Ann's fault." Zeva grumbled, circling the too small school desk, tugging at the too short skirt for the umpteenth time tonight.
If she'd not had to rescue her sister from yet another boneheaded idea she'd not have been late for her shift at Dante's Interspecies Pleasure Club. Had she not been late, her server shift would not have been given to another and she wouldn't have ended up locked in a glass box waiting for the patrons to pay a quarter to watch her self-pleasure.
Happy Valentine's Day to her.
"Zeva, you have to relax, doll." Angel's voice came through the speaker in the corner, gum cracking and all, from the box next door. "I know it's your first time back here, but as wound up as you are you'll never ring the bell. Shoot, you're liable to shift mid-lecture and you know how Dante feels about shifting shows…"
"Yeah, I got the feeling it was a big no-no."
"Oh honey, there's a whole 'nother section here for that kind of peep show."
Appropriately named, Angel was dressed as an angel of mercy. She had a short white uniform, stethoscope and a thermometer the size of a summer sausage. Rumor had it she could perform miraculous acts with that sucker. She was also the only employee who worked the glass rooms full-time. Angel had shared her love of the job while helping Zeva into her costume for the night, that of a private school teacher. It gave Angel a good feeling to know that everyone who left her room, left with a smile.
Zeva envied that kind of job contentedness. She, herself, was still looking for it.
"Oooh doll, looks like you're about to have some company and I am pea-green over here, that's for sure. Relax and enjoy!"
Angel's voice cut out at the same time as Zeva's heart sped into overdrive. Could she really do this? She was far from prudish about sex and she was happy with her own body, but she'd never done this for an audience before. Masturbation had always been something she'd done alone, with the lights dimmed low and a certain oblivious to the situation mate on her mind.
Zeva leaned against the desk, one leg out to the side and her bare ass atop the cold wood surface. With her back to the door and her eyes closed she took a deep breath. She could do this. She would just envision whoever was now opening the door and entering to be the wily wolf, who'd tortured her practically from birth.
With a ruler in hand and her teacher persona firmly in place, she waited for the sound of money to fill the box, out front. The minutes felt like hours and still the patron placed no money in the slot.
"This isn't a free show," she spoke with as much authority as she could muster over the flurry of nerves gripping her stomach.
"Oh, I've got money."
Zeva gurgled and turned, hoping she was wrong about the owner of the deep sexy voice behind her. Please let it be anyone else. Some anonymous playboy only looking for a little Valentine's peep, even a grizzled old, smoke voiced woman would be preferable to who really stood there…Taggert Nickolas McMahon and boy was he pissed.
"I've got enough money to last the rest of the night, Z. Now climb astride that desk, flash me your pretty ass and show me what you can do with a ruler, baby."