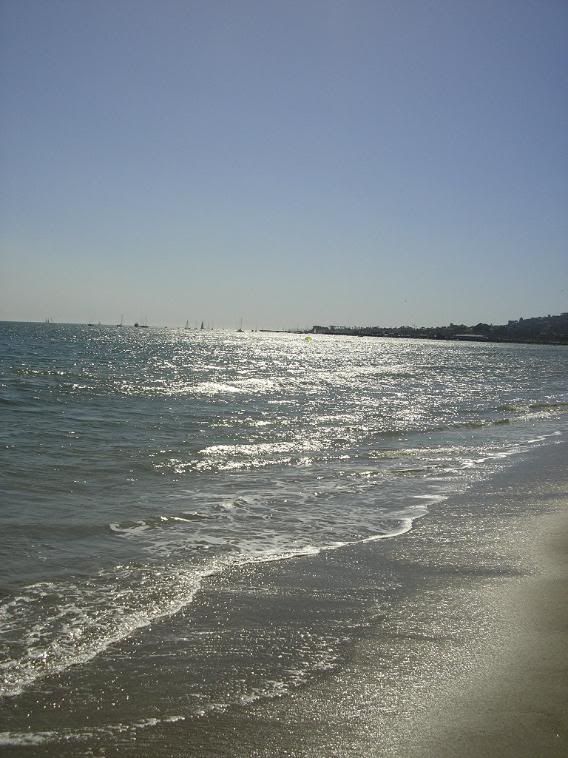 Jackson pushed his Stetson back further on his head.
So much sand and water.
He glanced down at his bare feet.
His name brand jeans rolled up to mid-calf greeted him as his eyes continue upward.
In his left hands, he held his battered cowboy boots.
"How the friggin' shit did I end up here?" He winced at his words along with his tone.
He knew how he got here.
It still didn't make any sense.
Not that magick and wishes made sense.
He'd followed his heart and her.
Love did weird things.
He didn't know how weird until he met her.
Jackson sighed as another wave swept inward, stopping near his sand covered toes.
It felt good to be out of his boots.
The sun warmed more than his neck and hands.
The heat off the sand caressed his tired worn soles and moved up his legs trying to cajole him into laying down and pulling all the warmth inside.
His heart beat almost in time to the rhythm of the waves pounding the shore with each lap of their strength.
Two blocks up the center street of town, Abebi worked.
Her small shop catered to the locals and their artisan ways.
Easels and paints filled one part of the storefront.
Midway bins of multi-colored chalks, art pads, and crayons took up one side.
In the back corner, a child-sized table sat with different sizes of coloring books strewn upon it.
Opposite it, racks held adult paint sets and complex artistic instruction books.
Near the cash register, where he'd seen her as he'd watched her through the window, easy to do items lined the shelves.
Her hand written sign offering half hour art lessons caught his eye.
Abebi rang up the largest sale of the day.
The grade school's summer art program began in two weeks.
They came to her for supplies every year.
This year they wanted her to teach a weeklong course on how to follow your heart through art.
The instructor smiled when Abebi stuttered and stammered.
She sketched and dabbled in watercolors.
Nothing of fame or even local interest.
She drew, painted, and colored for her own enjoyment.
After the instructor explained why they wanted her to teach, she'd agreed.
Too many of the children didn't understand following their passion and letting their creativity out.
Some of their parents could barely afford to pay the rent or put food on the table.
If for a few hours a day, she could help the kids ignite their heart light and find a moment of value, she'd do it.
She looked up and caught his reflection in the window.
Jackson had found her.
Not a bad thing.
How she wasn't sure.
Two full moons prior they'd run through the pastures and woods of Talbot's Peak backcountry hunting nothing but each other.
Their howls joined the other wolves racing through the area mate hunting.
She knew those nights of passion were just that.
Passion come and gone---or so she thought.
No he'd followed her home.
How she wasn't sure.
Abebi's hand caressed her flat stomach.
A tiny flutter joined by another told her what those nights summed up to.
Shape shifters knew instinctively when they caught.
Pregnancy mattered amongst the natural shifters.
Jackson's family was one of those.
Hers no one knew.
Mutant and mutt were the kindest words whispered about her before she'd escaped the pack that pushed her out. Talbot's Peak was but a stop on her journey to find her home.
She'd found it here amongst the sand, sea, and sun.
The local pack of sea wolves didn't care where she originated or how.
They co-opted her in shortly after they'd discovered each other running in the foothills.
Sea wolves loved the beach, the sand, and the sea as much as they loved running through the hills.
Many speculated on their breed and origins.
One legend stood out in their lore above all others. Two lone wolves, male and female, found each other.
Their first full moon together, they'd morphed into Native Americans counterpart. Each told their story.
As the night progressed, their howls and yaps brought others to them.
The others told their stories and why they had no pack.
By the first tinges of dawn, a new pack formed.
All agreed each had their worth, their beauty, and their purpose.
None were without a home or a hearth to call their own.
Abebi found hers with them.
Jackson might too.
She didn't know.
She wasn't sure if his howled love song that night was real or faked.
His presence said maybe it was real.
~~~~~~~~~~~~~~~~~~~~~~~~~~~~~~~~~~~~~~~~~~~~~~~~~~~~~~~~~~~~~~~
Happy Weekend Gang!
I hope you are enjoying summer. We're busy around the spice homestead working, reading, and enjoying each other's company. Our octet morphed into a quintet for now. People come in and out of your life for reasons we sometimes don't understand. They're wished well on their journey.
Remember to keep a book or two handy to share with your spice and loves.
Solara