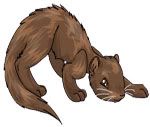 "Have you ever been in love, my little apẻritif?"
Danny's blood boiled at Penny's words and actions. How dare she make assumptions about him and ask questions about things as ridiculous as love. She stood before him, her finger curved around her upper lip; disappointment alive in her eyes. Did she view him as a thing instead of a person?
"Daniel, are you still with me?"
"What does love have to do with anything, ma'am?" It wasn't as if there'd been an over abundance of the wishy-washy emotion in his life up to this point.
"Love is magical. Love heals our hearts and souls."
"Bullshit, ma'am," Danny squeaked. "Love is pain. It is a joke played on the young to keep them in line. Love is the emotion adults tout as a fix-it to anything that troubles you…"
"Daniel, stop! Love is special. It brings us trust and closeness…"
"No, Penny…what it brings is a hunter with a big, sharp knife to take your mother's skin and drape it over some stinking monkey's shoulders!"
Danny threw his hands over his mouth, shocked by what he'd just admitted to. Where had that come from? His past was something he'd hidden away inside himself and hadn't shared with anyone until just now when he'd shared it with a dominant, female bird. What the hell was wrong with him?
Penny didn't look any better. Her eyes were wide and filled with moisture she had yet to let fall. She'd paled and was covering her lips, now with all of her fingers rather than just one.
A knock at the door saved them both from continuing this conversation, but he knew they would come back to it at some point. He couldn't flee this woman like he had the others as he needed her to get home, but perhaps he could convince her to leave sooner than she had obviously planned too.
"Ehem, apẻritif," the gentle clearing of her throat offered up a chance to look away from her. "Please go into the bedroom, attend to your needs and then revert to your mink form. Wait for me on the bed. I will be there shortly."
"But…"
"Please, do as I say, Daniel and don't incur a punishment tonight."
"Yes, ma'am."
Danny moved toward the back room as Penny went to the door. Why would she want him to become the mink…what did she plan to do to him in his alternate form?